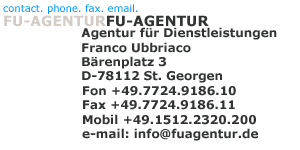 E-Mail
info@fuagentur.de

Disclaimer
Whilst we have made every effort to ensure that the information contained in our website is accurate and current, neither FU-Agentur and its employees nor its contributors can be held liable for any errors or omissions.
Terms and Conditions
This site is made available to you by FU-Agentur and its service providers. The use of this site is subject to the following terms and conditions as well as laws applicable in your country. FU-Agentur reserves the right to revise these terms and conditions from time to time. The use of the site is conditional on your acceptance of these terms and conditions.
1. Materials contained on this site are the copyright of FU-Agentur and others. Except as specifically set out below they may not be copied, reproduced, published, distributed, downloaded, modified, reused, re-posted or otherwise used in any form, including electronic copying or used in on-line systems or on any part of the Internet, without the express written permission of FU-Agentur .
2. You may download and/or use the materials contained on this site for your own private use for non-commercial purposes.
3. FU-Agentur has used its reasonable endeavours in preparing the materials on this site but makes no warranty or representation as to its accuracy. Neither FU-Agentur nor its service providers, nor any other person involved in creating or providing this site shall be liable for any direct, indirect or consequential damages arising out of your use of this site or any inaccuracy or omission in the information provided.
4. Please note that all material and information submitted by you to this site shall not be regarded as confidential and can be used by FU-Agentur in any way including copying and publication of your submission in any medium and no payment shall be made by FU-Agentur for use of that material or information.FU-Agentur accepts no liability for any information or notices submitted by others to this site.
5. You are advised that most jurisdictions have legislation dealing with defamatory or obscene materials and the transmission to this site of such material may expose users to civil or criminal sanctions. You are advised to ensure that information sent is truthful, does not violate the rights of others and is legal.
6. All material contained on this site is published in good faith, but it is emphasised that FU-Agentur does not in any circumstances accept responsibility for the accuracy or otherwise of any advertisement or message published whether on-line or off-line (nor is any kind of warranty expressed or implied by such publication) and that FU-Agentur specifically disclaims all and any liability to users of any kind of any loss or damage of any nature whatsoever and however arising.
7. In no event do we accept liability of any description including liability for negligence for any damages whatsoever resulting from loss of use, data or profits arising out of or in connection with the viewing, use of performance of this site or its contents.
8. All users are advised to check all details of the advertisement carefully before entering into any agreements of any kind. If in doubt, please seek legal advice.
You should note that FU-Agentur will pursue the unauthorised use of its intellectual property rights to the fullest extent available to it by law.